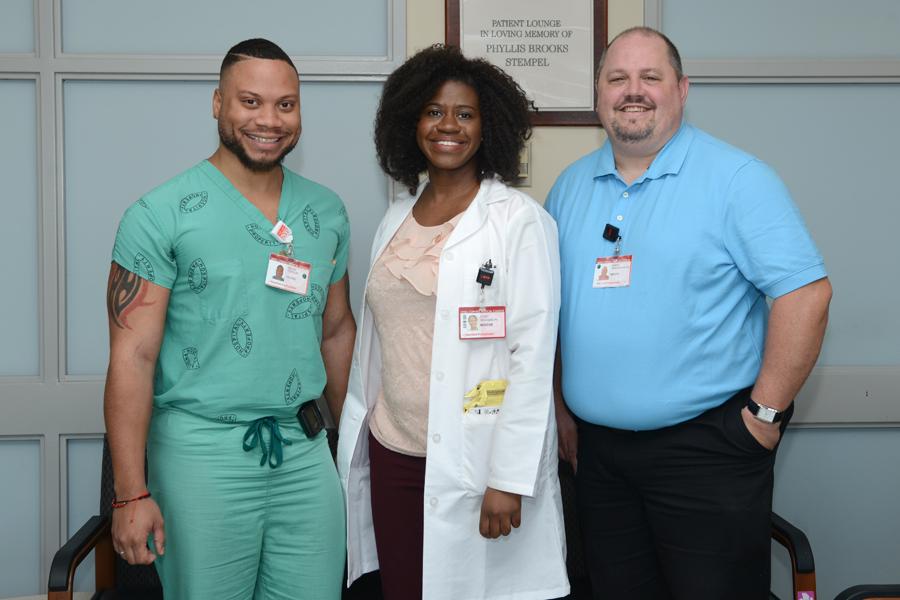 L to R: Melvin Pearson (Clinical Technician), Syndy Benjamin (Senior Physician Assistant Inpatient), Jeremy Heinerich (Chief Physician Assistant Inpatient)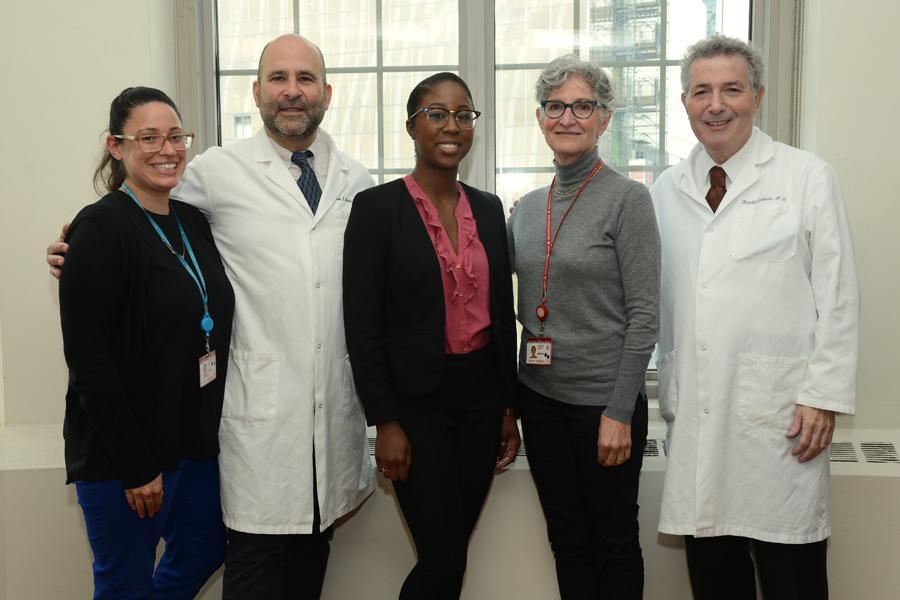 L to R: Alison Lasky (Administrative Coordinator), Dr. Mark Lachs, Chelsie Buchett (Administrative Secretary), Cory Henkel (Divisional Administrator), Dr. Ronald Adelman
L to R: Debbie Dimanche (Division Administrator), Awilda Crespo (Clinical Technician) , Carolann Collins (Practice Supervisor)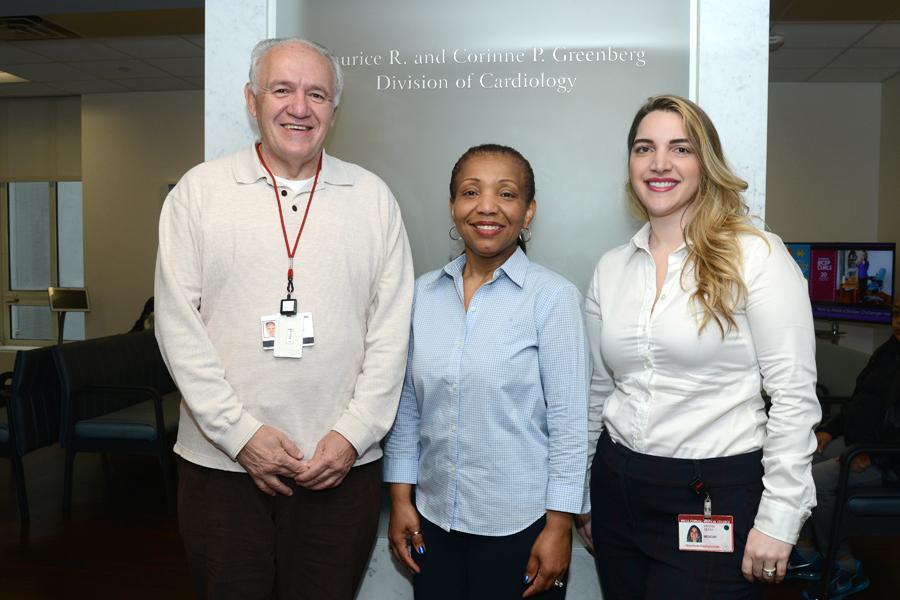 L to R: Manny Aquilina (Administrative Coordinator), Varnia Egalite (Senior Patient Coordinator), Kristin Seara (Operations Administrator)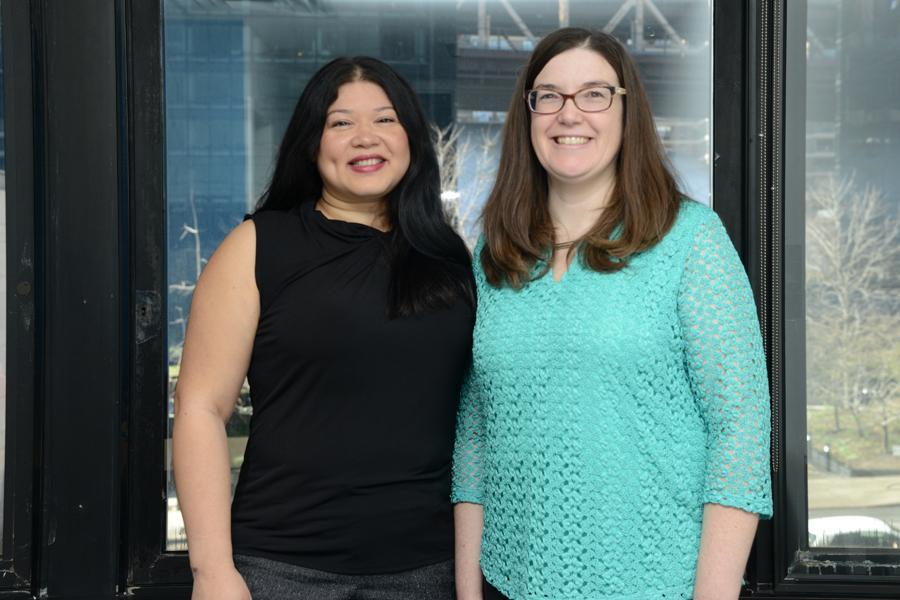 L to R: Alicia Lewis (Director, Clinical Trials) and Natividad Esparza-Casquete (Regulatory Specialist)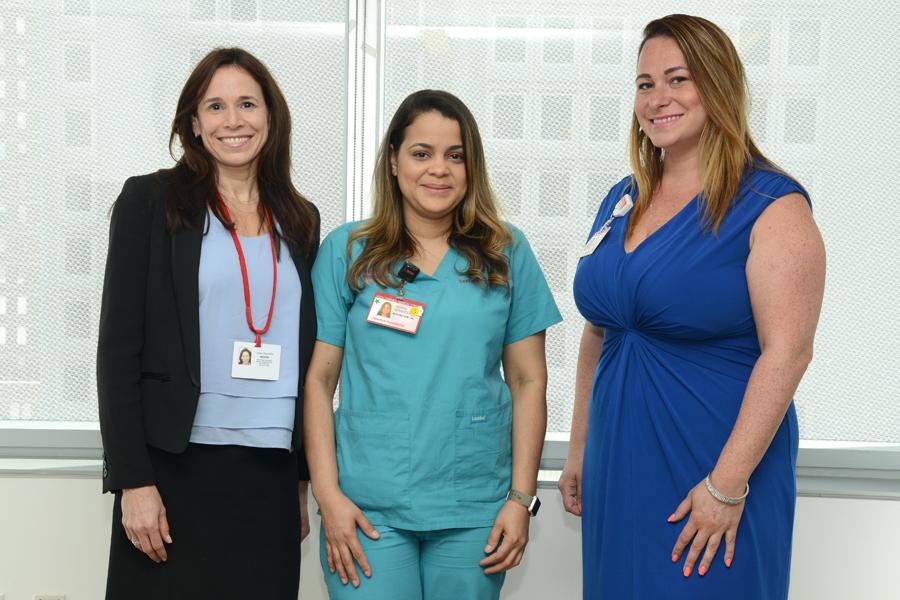 L to R: Paula Goldstein (Divisional Administrator), Virginia Hernandez (Senior Clinical Technician), Elena Lungu (Practice Supervisor)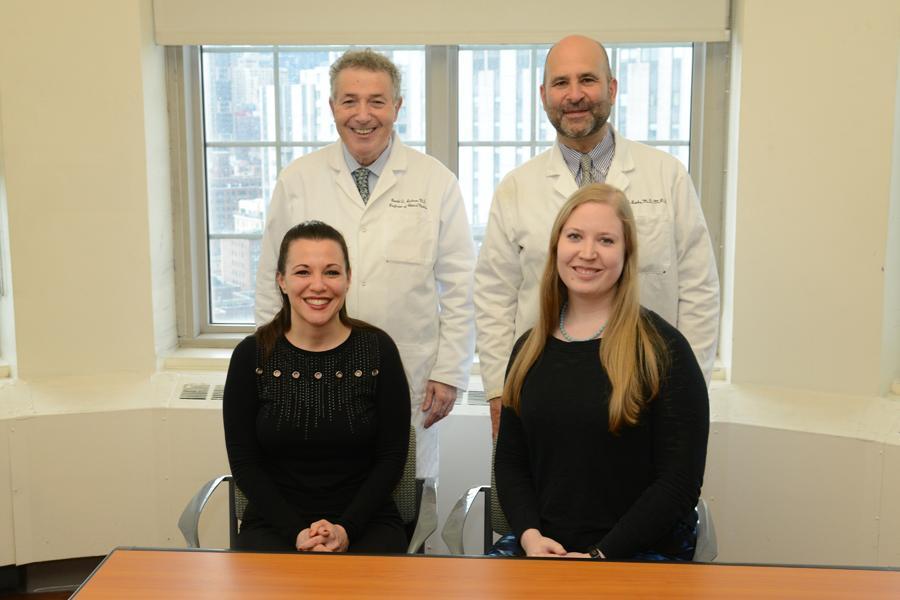 Clockwise from top left: Dr. Ronald Adelman, Dr. Mark Lachs, Lauren Meador (Senior Research Aide), Cara Kenien (Research Program Coordinator)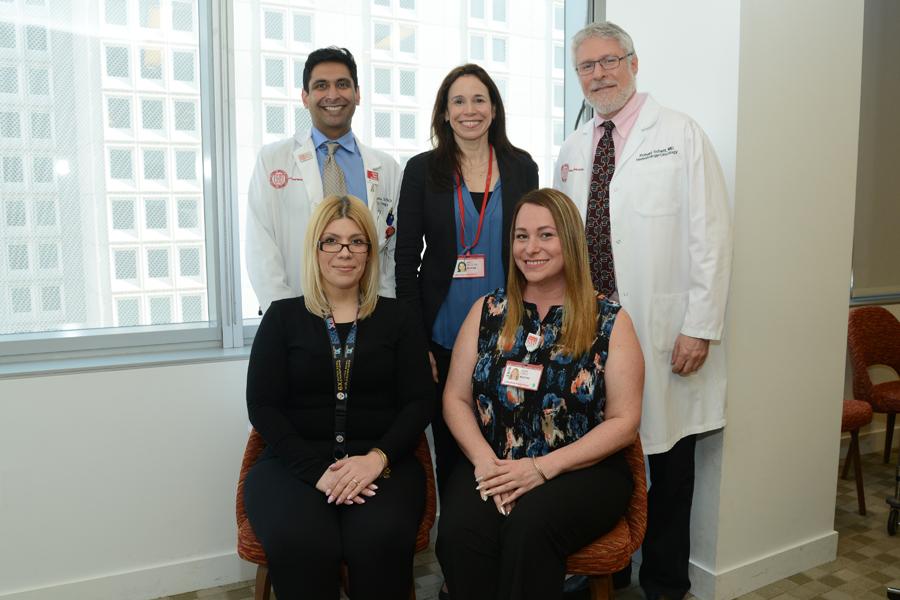 Clockwise from top left: Dr. Ashish Saxena, Paula Goldstein (Divisional Administrator), Dr. Ronald Scheff, Elena Lungu (Practice Supervisor), Danielle Molina (Practice Specialist)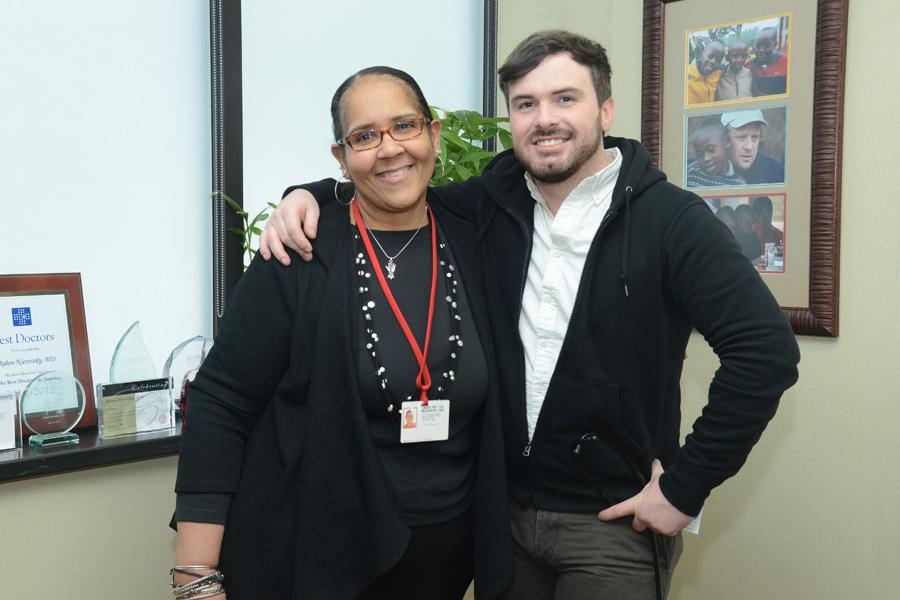 L to R: Laura Prescod (Practice Supervisor) and Arthur Perry (Physician Assistant II)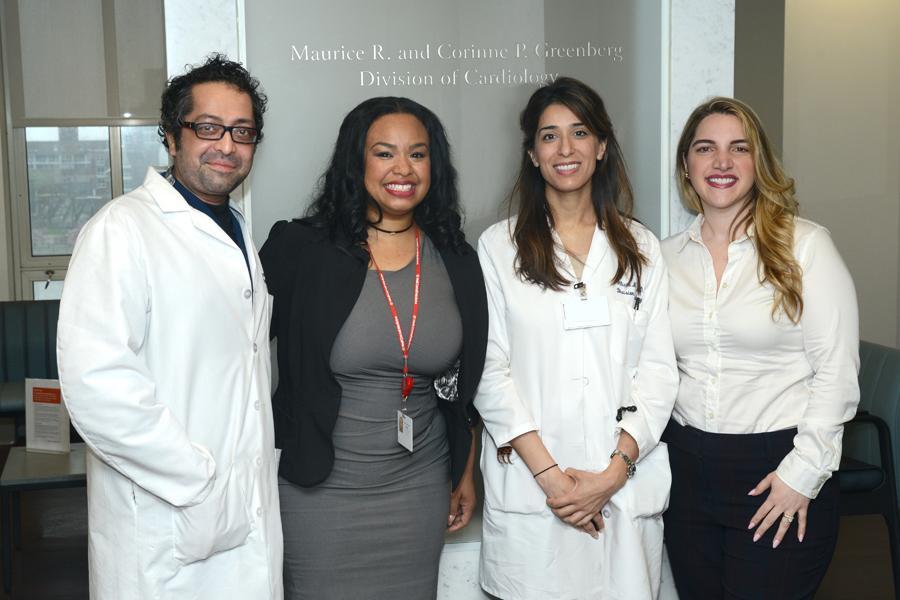 L to R: Dr. Harsimran Singh, Marlene Santana (Patient Coordinator), Dr. Alicia Mecklai, Kristin Seara (Operations Administrator)
L to R: Dr. Ruben Niesvizky, Linda Tegnestam (Research Nurse Specialist), Dr. Adriana Rossi
Syndy Benjamin was noted for her exceptional attention to detail, as well as her caring manner, in dealing with patients. She is also known for taking the initiative in working as a team in the field of nursing and for her amazing ability to engage and participate in activities that raise the academic bar.
Chelsie Burchett has been noted for her "exceptional competency" in swiftly learning complex hospital computer systems.  Her supervisors also emphasized her "continuously flawless follow-through" on the job, her skill in strategizing best processes for any given task, and her ability to foster positive and productive relationships with co-workers and visitors to the Division of Geriatrics & Palliative Medicine.
Morgan Burrell was noted for her extraordinary work ethic, her ability to adapt to any clinical setting, her skill in ordering patient tests, and her eagerness to read papers and guidelines that have helped to further, not only her own education in the field of cardiology, but that of her patients. It was commented, "On a scale from 1 to 100, Morgan is a 100!"
Awilda Crespo was recognized for the instrumental role she plays in providing confidence, comfort, and technical skill in terms of post-transplantation follow-up in the patient care setting; patients stated that Awilda has "star quality," always bringing a smile to situations that can be most challenging.
Varnia Egalite received recognition from patients and their families for being exceptionally efficient and compassionate. She was described as providing a level of care that goes "above and beyond," and it was said by one family that they know their loved one is in "good hands with Varnia" – "this woman can accomplish anything."
Natividad Esparza-Casquete is considered to be an important resource for both new staff and junior management, serving as an expert mentor and role model known. She also demonstrates a positive and professional demeanor, diligence, and a proactive approach to work projects.
Virginia Hernandez was recognized for her skill in handling a fast-paced and complex work environment with patience, professionalism, and her ability to resolve problems effectively. She has also become known as the lead point person for the practice in which she works and for her enthusiasm in advocating for the welfare of patients.
Lauren Meador is valued for her "can do professionalism" and for creating materials and processes that have helped to strengthen the work flow. She also manages competing demands with flexibility and grace; acts as a teacher and mentor to co-workers, as well as for interns and volunteers whom she supervises; and is a strong problem solver and communicator.
Danielle Molina has demonstrated professionalism, congeniality, and outstanding administrative skill in managing coworkers.  Her supervisors and colleagues refer to her as the "go to" person based upon her consistently cooperative demeanor and her seamless coordination of practice activities. She was also noted for her "natural ability to produce high-quality work."
Melvin Pearson was noted for his swift, professional, and compassionate demeanor in his work with patients. He is known for ensuring matters of safety and general care for patients, along with his exceptional sense of duty on the job, always going the extra mile.

Arthur Perry was recognized for his "amazing and genuine compassion" in dealing with patients who are receiving treatment for challenging illnesses; he was described by patients and families as demonstrating extraordinary dedication, patience, clarity, and knowledge in helping to improve overall "quality of life."

Marlene Santana has received numerous compliments given by patients and co-workers for being "most thoughtful" in all of her actions.  She is considered to be a true "role model of excellence," a "joy" to work with, and an employee who demonstrates exceptional skill and dedication.

Linda Tegnastam has earned strong praise from patients who have noted her proactive style in foreseeing and understanding their needs (e.g. ordering of medications on time, scheduling of tests, excellent follow-up). They have described Linda as being exceedingly organized and possessing a kind demeanor that makes them feel "cared for."
Do you know an employee who exhibits STAR qualities?
Nominate them today!