The Fund for the Future award supports selected junior faculty during a crucial period in their career development - the completion of their research training into the early years of their first faculty position at Weill Cornell Medicine. Backed by the generosity of donors to the Weill Department of Medicine (WDOM) and Iris Cantor Center for Women's Health, the Fund for the Future program provides an initial year of funding to the recipient with a total funding maximum of $300,000. This funding is based upon academic progress and a competitive training award (such as an NIH K) application timeline within 18 months of initiation of the Fund for the Future support.
This year's winners are Jamuna Krishnan, M.D., Bobak Parang, M.D., Ph.D., and Lily Yan, M.D., MSc.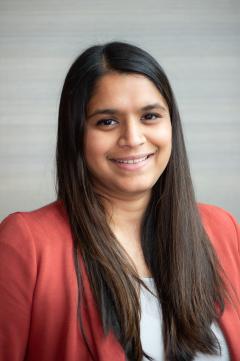 Dr. Jamuna Krishnan is an Instructor in Medicine at Weill Cornel Medicine in the Division of Pulmonary and Critical Care. Dr. Krishnan's Fund for the Future award focuses on defining the impact of race-sex disparities in comprehensive cardiovascular health among patients with COPD, as well as developing an intervention to improve cardiovascular health among patients with COPD. Cardiovascular disease is a leading cause of morbidity and mortality in COPD.  Dr. Krishnan's research interests are informed by caring for patients in her COPD-focused clinic, where she has found that optimal comorbidity management in COPD is complex, requires significant care coordination, and influences outcomes. Her long-term research interests are to develop and test interventions to improve equity in outcomes among socially disadvantaged patients with COPD. Dr. Krishnan obtained her M.D. at the University of Michigan Medical School. While completing her residency in internal medicine at Weill Cornell Medicine, she served as chief resident. She looks forward to using her Fund for the Future award to continue her work in improving health outcomes for her patients.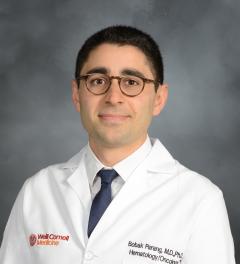 Dr. Bobak Parang is a medical oncology fellow at Weill Cornell Medicine. After finishing his fellowship this June, he will join the faculty of the Weill Department of Medicine in July 2023. Dr. Parang is dedicated to research that leads to better treatments for lung cancer. His current research focuses on non-genetic mechanisms of lung cancer drug resistance and metastases, with a particular focus on how methylmalonic acid can worsen lung cancer progression. After earning both his M.D. and Ph.D. from Vanderbilt University School of Medicine, he joined the Weill Cornell Medicine Physician Scientist Training Program, where he completed his internal medicine residency. He is a 2022-2023 recipient of the ASCO Young Investigator Award.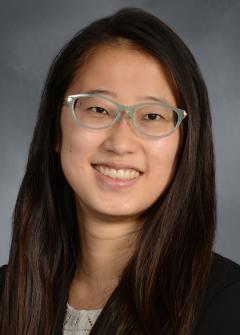 Dr. Lily Yan, MD MSc is an Instructor of Medicine in the Division of General Internal Medicine and Center for Global Health at Weill Cornell Medicine. She works on the prevention and treatment of cardiovascular disease using epidemiological methods in low-middle income countries, including Cambodia, Zambia, and most recently, Haiti.  Her high-impact findings among a population-based cohort in Port-au-Prince, Haiti, include low rates of blood pressure control, high levels of environmental lead (which is associated with higher blood pressure), and multisectoral interest in community-based hypertension care. Dr. Yan received her M.D. from Stanford University and completed a combined internal medicine and preventive medicine residency at Boston Medical Center, where she also obtained a MSc in health services research. Dr. Yan's Fund for the Future award will support the next phase of her research: leveraging her epidemiological findings to design and pilot a multi-component community intervention to screen, treat, and prevent hypertension to improve clinical outcomes.
The WDOM congratulates the recipients on their achivement!