An NIH sponsored multidisciplinary training program geared toward the development of the next generation of pulmonary investigators focused on the molecular physiology of the lung and the functional application of this knowledge to human lung diseases.  This training program offers M.D. and M.D./Ph.D. fellows additional year(s) of protected research in addition to the 18 months provided during their core fellowship years.
The main objective of our training program is to provide a structured, intensive research experience and multidisciplinary mentoring that fosters the development of skills needed to pursue a successful career in investigative pulmonary sciences.  Leveraging world-renowned mentors in COPD, interstitial lung disease, acute lung injury, sepsis, and respiratory infections, our training program is designed to help our fellows become independent investigators in Pulmonary, Critical Care, and Sleep Medicine.
T32 training program is organized as follows:
Table. Major Training Units in the PCCM Multidisciplinary Research Training Program
| Participating Unit | Participating Mentors |
| --- | --- |
| Cellular Biology and Molecular Immunology | Artis*, Cantley, Cho†, Cohen, Lipkin, Liston, Nathan, Pascual, Rhee, Silver, Sonnenberg, Stout-Delgado |
| Lung and Vascular Injury | M. Choi*, Blander, A. Choi, Coller, Golightly, Hajjar, Lyden, Outtz Reed†, Rafii, Worgall |
| Human Pathophysiology | Glesby*, Aronson†, Crystal, Fitzgerald, Kaner, Krieger, Martinez, Permar, Podolanczuk†, Prigerson, Schenck†, Shaykhiev |
| Epidemiology/Bioinformatics | Charlson*, Ballman, Elemento, Kaushal, Krumsiek, Mason, Pathak, Safford, Tamimi |
* Training unit director
† Junior preceptor
Although flexibility is encouraged, a typical training timeline for M.D. and Ph.D. postdoctoral trainees is illustrated here: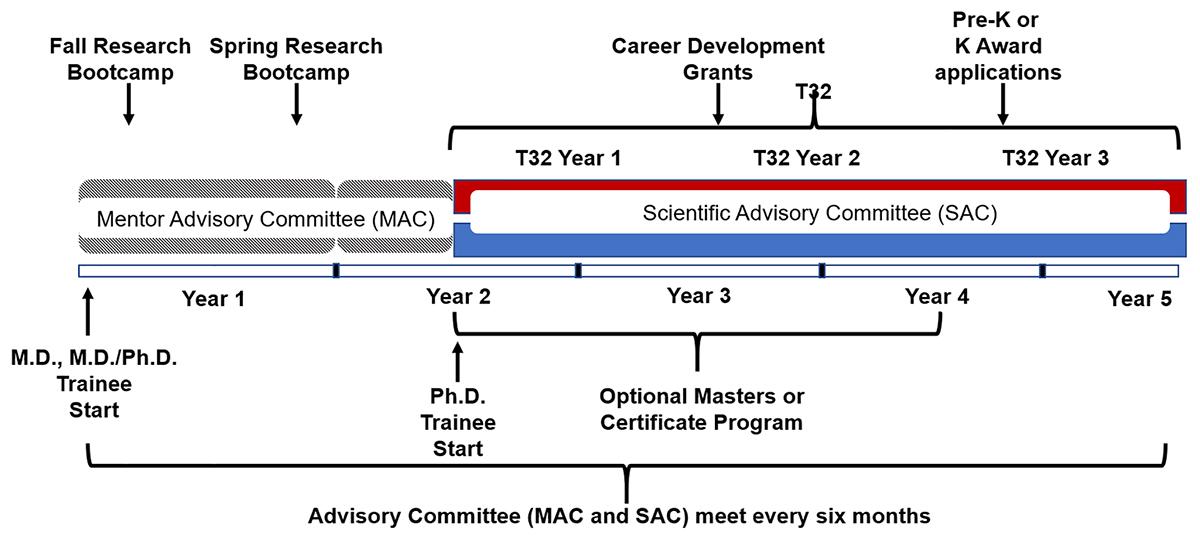 Figure. Typical training timeline for M.D. and Ph.D. postdoctoral trainees.
Hashed areas represent clinical training for M.D.s and M.D./Ph.D.s. Research training [in red] for M.D.s and M.D./Ph.D. trainees traditionally begins in the second year of training. Ph.D. postdoctoral trainees [in blue] begin research training in the second year of this timeline. The Masters (two years long) or Certificate (one year long) programs may be started in the beginning of the 1st or 2nd year of research training.
Please contact us for further information about the T32 training program.