Thank you for your interest in the NewYork-Presbyterian/Weill Cornell Medicine Nephrology Fellowship Program. We are widely recognized as leaders in graduate medical education, cutting edge research, and high quality patient care. We are deeply committed to training the next generation of outstanding nephrology physicians and scientists. Our prime location in New York City and close proximity to affiliate institutions – The Rogosin Institute, Memorial Sloan Kettering Cancer Center, Rockefeller University and the Hospital For Special Surgery – ensures a rich and rewarding educational and cultural experience!
Our faculty is dedicated to training nephrology fellows. We have a diverse and talented group of professionals - including physician scientists, basic science scientists, clinicians, and nurses - all of whom take great pride in contributing to the training of our fellows. We continuously strive to improve our fellowship program through new ideas and innovative educational experiences. This keeps both our staff and fellows on the cutting edge of nephrology education.
Our program's undeniable strength lies in the clinical excellence our fellows take away from their training. Our transplant program is one of the finest in the nation. Our dialysis programs are comprehensive and include in-center, home hemo and peritoneal dialysis. Our fellows consult in the eight intensive care units at NewYork-Presbyterian/Weill Cornell Medicine, and are well trained in Critical Care Nephrology. We are one of a few nephrology divisions with a world-renowned hypertension center integrated into our program. The Rogosin Institute pioneered dialysis therapy, and our partnership with Memorial Sloan Kettering Hospital has been invaluable in providing our fellows with the highest level of training in onco-nephrology. The Hospital For Special Surgery offers unprecedented access to patients afflicted with lupus, vasculitis and connective tissue diseases.
Our patient population is diverse; our world-class medical center attracts patients from around the world.
We have a strong commitment to scholarship, translating the best evidence to clinical care and creating new knowledge to advance clinical care. Accordingly, a minimum of six months is reserved during the second year of fellowship for scholarly activities in the area of basic research, translational research or clinical research. The mentored research activities ensure full participation by the nephrology fellows.
The investigators in the Division of Nephrology and Hypertension have been continuously funded for decades by the National Institutes of Health, and have a broad range of research interests that include transplant immunology and molecular biology, gene expression profiling, biomarker discovery and validation, gut microbiome, BK Virus Nephropathy, renal inflammation and fibrosis autophagy, computer modeling, and preeclampsia.  We have ongoing collaboration with researchers in other disciplines within Weill Cornell Medicine, as well as leading investigators at Rockefeller University, Memorial Sloan Kettering Cancer Center, NYU Langone Medical Center, Mayo Clinic, Yale School of Medicine, Johns Hopkins, Stanford Medicine, University of Alabama Medicine, and University of Pennsylvania.
Our fellows have been highly productive as reflected by presentations at the national and international meetings as well as publishing in high impact journals.
Our faculty includes prominent clinicians and scientists in the fields of nephrology, hypertension, dialysis, and transplantation. Our program has a great balance of clinical medicine and basic, translational and clinical research. You will enjoy unsurpassed opportunities for clinical education and academic growth.
We encourage you to apply for a Nephrology Fellowship at NewYork-Presbyterian/Weill Cornell Medicine. We are confident that you will have a highly rewarding educational and clinical experience.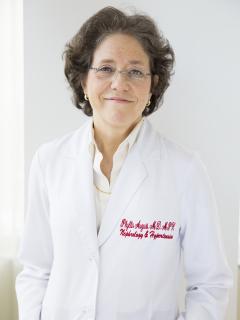 Sincerely,
Phyllis August, M.D., M.P.H.
Ralph A. Baer, M.D. Professor of Research in Medicine
Professor of Healthcare Policy and Research
Professor of Medicine in Obstetrics and Gynecology and Public Health
Director, Hypertension Center
Program Director, Nephrology Fellowship Program