The Categorical Program is a traditional 36-month training program that balances inpatient and outpatient medicine across all of the specialties within internal medicine and prepares trainees for careers in general internal medicine practice, hospital medicine, or subspecialty fellowships. The various clinical settings offer a diverse patient population from all economic, social, and ethnic backgrounds. In addition to these clinical opportunities, our program offers an academic community with strengths in all three missions – clinical care, research and education. Our department is home to expert faculty participating in investigation across all medical specialties and at every level of inquiry from biomedical sciences to outcomes research, translational science to technology.
Our trainees build their clinical expertise and confidence through caring for patients within a rich learning environment and innumerable opportunities to exercise independent, clinical decision-making, critical thinking about the nuances of medicine, and habits that encourage seeking best evidence for growing knowledge. The curriculum promotes resident autonomy while learning the details about disease, diagnosis, and treatment. The program includes:
Balance between inpatient and outpatient training (6 + 2 model during PGY1 and PGY3)
700+ bed hospital with over 40 ICU beds and 65 step down beds
Patients from around the world
Breadth of common diseases as well as esoteric, tropical, and rare diagnoses
Oncology Inpatient Units at Memorial Sloan Kettering Cancer Center
Rheumatology rotation (inpatient and outpatient) at Hospital for Special Surgery
Three different continuity clinic practice sites (two in Manhattan; one in Queens)
Core Research Curriculum and Research Opportunities
Global Health Rotations: Bugando, Tanzania, and Gheskio, Haiti
Novel mobile device communication for inter-professional collaborative care
Simulation curriculum for bedside procedures including point-of-care ultrasound training
Electronic Health Record with physician order entry (Allscripts inpatient and Epic outpatient)
Ambulatory Education
Our Internal Medicine residents are embedded into a full-service outpatient practice that sees patients from every walk of life. This unique clinical experience gives them a tremendous opportunity to learn the nuances of outpatient management of both chronic and acute diseases. The practice is a full Patient Centered Medical Home and serves patients with private insurance as well as government-sponsored health coverage.
The ambulatory time includes a mix of clinical sessions enhanced by a comprehensive curriculum on ambulatory topics through its own morning report, journal club, and clinical controversies series. The clinician educators are highly engaged teachers who inspire residents in developing their own authentic bedside manner, coaching them in communication skills and longitudinal management of a patient panel.
Outpatient Education Time

There are three distinct sites that host resident practices. The largest is the Weill Cornell Internal Medicine Associates (WCIMA), across the street from the hospital with the second practice, the Wright Center, just 7 blocks north as a satellite practice of WCIMA. These two practices feature multicultural patients from New York City, and an amazing clinical experience that covers the breadth and depth of internal medicine. The Long Island City (LIC) Health Center in Long Island City, Queens, New York, is the third site, designated as a federally qualified health center with a diverse patient population, and fully integrated into the community for patient education and outreach.
Residents participate in a variety of clinic sessions including women's health sessions, rapid discharge appointments, psychiatry, diabetes education, smoking cessation, phone triage and evening practice sessions to introduce them to all the necessary elements for providing comprehensive primary care to patients.
PGY1
On average, interns spend six months on inpatient wards service as the primary doctor for their patients. Just over half of this time is spent on the general medicine services with the remainder on specialty services including cardiology and oncology. One additional month is spent in the Medical ICU. The 6 + 2 block schedule provides every eight weeks of assignment with two weeks immersed in the outpatient practice. Each intern is part of a practice "pod", with one member of the pod assigned to cover the practice on a rotating basis. The ambulatory block time (~ 12 weeks of the year) also includes education units, dedicated time to learn important doctoring skills and best-practice ambulatory medicine. The education units include our simulation and ultrasound curriculum, concepts in cultural competency, evidence based medicine training, palliative care, translational medicine concepts, quality improvement science methods, and a hands-on practicum to improve physical exam skills. While working in the outpatient practices, a morning report series includes a comprehensive curriculum on ambulatory medicine.
Other core activities of the PG1 year include Intern Academic Time every Thursday at noon. This 90-minute session provides a breadth of key topics in medicine, delivered in interactive sessions with both content experts as well as faculty facilitators trained to inspire learning and mastery. Intern Morning Report occurs every Friday at 10 a.m., and is a traditional case conference to discuss active patients and hone critical thinking skills around diagnostic and therapeutic strategies while maintaining a patient-centered approach.
Two intern retreats (fall and spring) provide important opportunities for team building, mindfulness, and an introduction to teaching and leading others. There is a well-developed wellness curriculum woven throughout the program to help residents stay balanced during the competing priorities of residency training. In addition, our Resident-as-Teacher Workshops are offered at the end of the internship to provide rising juniors with information and exercises to build the necessary skills to teach and lead teams during residency.
PGY 2
The second year is designed to provide ample elective time to allow residents to explore specialties as potential career options and commit to scholarly projects. The Core Scholarly Curriculum is provided early in the PGY2 year to provide residents with an intense introduction to research methods and to jump-start their projects. Residents can then use a portion of their elective time to delve further into research activities. To create time for electives and self-exploration, PGY2s have a weekly continuity clinic in lieu of the 6 + 2 block schedule. In addition to these activities, PGY2s hone their clinical judgment by spending up to 4 months managing critically ill patients in the Medical ICU, Cardiac Care Unit, Emergency Department, and performing Critical Care consultations for the sickest patients in the hospital. Junior residents also learn to lead a team on the inpatient wards and develop their teaching skills. Other rotations that round out the second year of training include neurology, rheumatology at the Hospital for Special Surgery, and geriatrics. PGY2s can also select our Rural Health and Global Health rotations. The annual JAR retreat in the spring includes leadership training as well as workshops on applying to fellowship programs and post-residency jobs. The simulation curriculum is continued with mock code training and drop-in sessions in the Simulation Lab for ongoing practice of important bedside procedural skills and ultrasound techniques.
PGY 3
Our senior residents round out their training with additional rotations on the inpatient wards, critical care units, night float, and the emergency room. Each PGY3 also spends time on our General Medicine Consult service learning about preoperative medicine and co-management of surgical patients. Many seniors select the global health rotation in Weill Bugando, Tanzania while others choose to spend time in the Weill Cornell Medicine-sponsored GHESKIO center in Haiti. Additional time can be assigned to research to complete projects, prepare manuscripts, or submit abstracts to scientific meetings. Selected PGY3s are asked to serve as Assistant Chief Residents, where they gain the opportunity to be a leader and teacher in the residency program, seeing an insider's view of medical education. The senior residents' outpatient experience includes rapid follow up (urgent care) sessions and a Board Review Course.
Conferences
The clinical training is augmented with a wide range of conferences including dedicated academic time. These weekly 90-minute sessions are interactive, case-based discussions where teams of residents work together using iPads and the medical literature to find best practice evidence for clinical care. In addition to academic time, the Core Conference Schedule provides morning report, journal club, patient safety conference, a formal Morbidity and Mortality conference, Senior Seminar Series, a High Value Care conference, and the favorite Chairman's Conference. The Department of Medicine Grand Rounds, on Wednesday mornings at 8 a.m. offers well-known speakers from across the country (and the world) who discuss important advances in biomedical and clinical topics. The Grand Round series includes a quarterly autopsy-based Clinical Pathologic Conference as well.
Inpatient Conference Schedule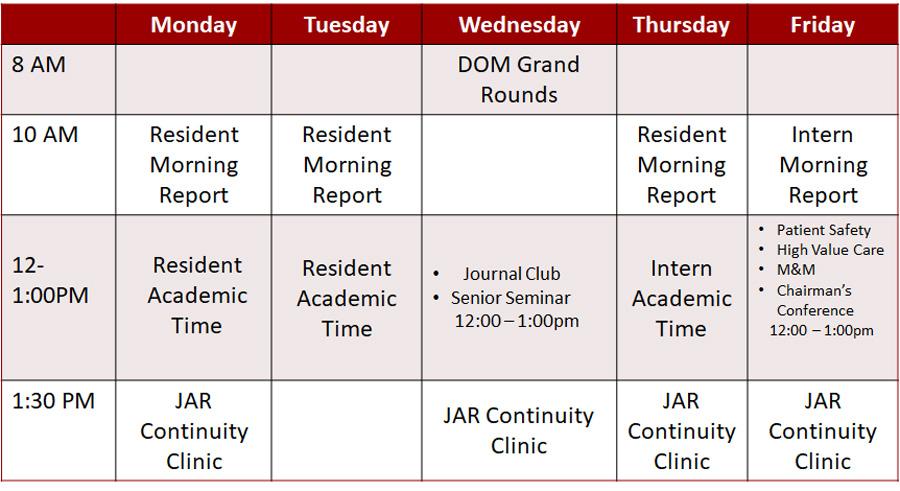 Our Graduates
The graduates of our program go on to become highly successful clinical educators, physician-scientists, academic-clinicians, and leaders in academic medicine. In recent years, about 75% have pursued subspecialty training, with 15% committing to hospital medicine positions. The remainder secure traditional internal medicine jobs or novel positions across the healthcare spectrum. Our graduate placement information for the past three years is available here.